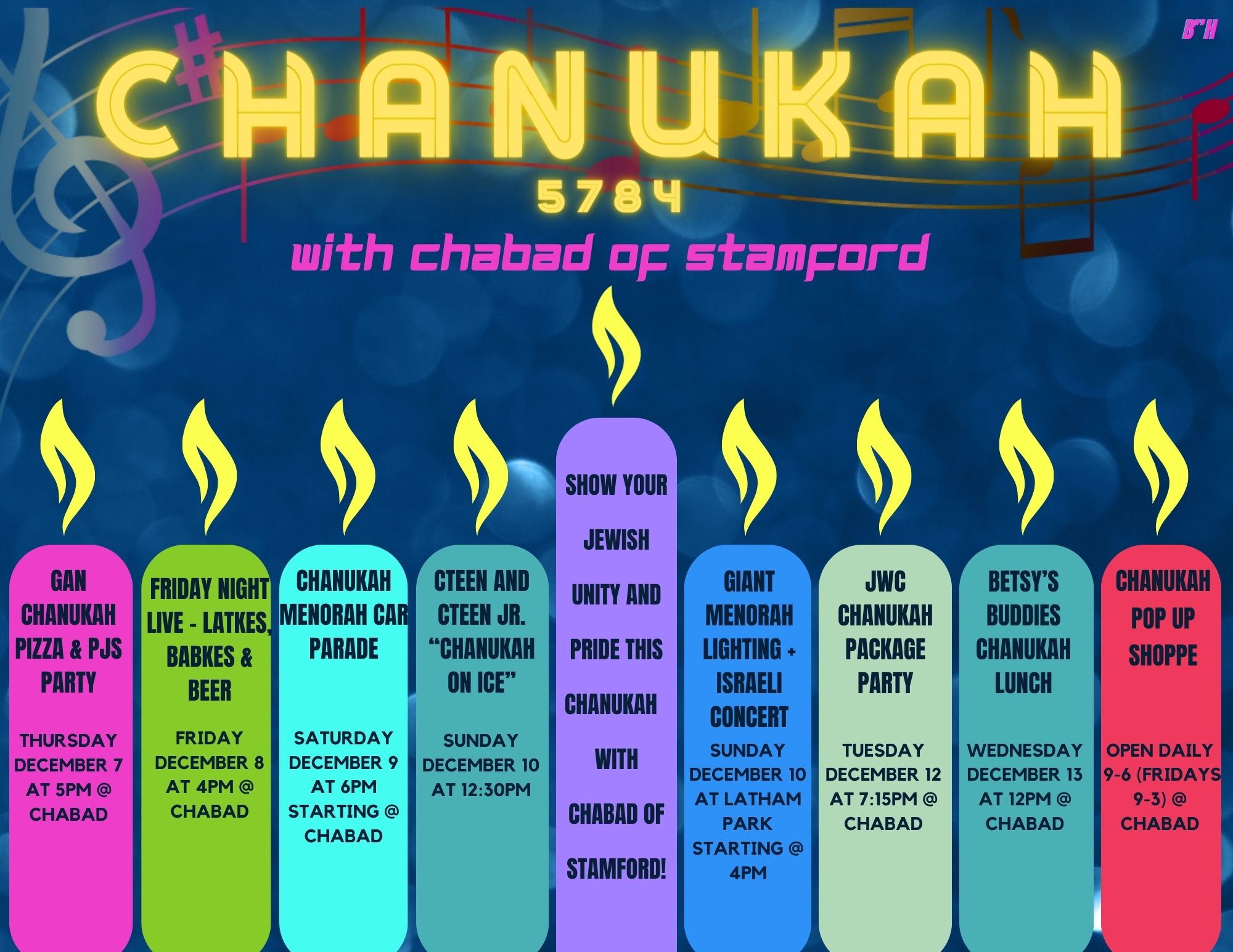 Chanukah Celebrations for the whole family!
1) GFC CHANUKAH PIZZA & PJs
Join us on Thursday, December 7 at 5:00pm at Chabad. RSVP HERE
2) CHANUKAH FRIDAY NIGHT LIVE
Friday Night Chanukah, December 8th.
Join us for a spirited Kabalat Shabbat, special children`s program followed by a smashing Kiddush of Latkes and more. Menorah lighting at 4:00PM. FNL at 5:00PM. RSVP HERE
3) CHANUKAH MENORAH CAR PARADE
Join a parade of cars decked out with menorahs as we drive through Stamford culminating with a Giant Menorah lighting at Latham park. Meet Saturday, December 9th, 6:00pm at Chabad of Stamford. RSVP HERE
4) CTEEN & CTEEN JR CHANUKAH ICE SKATING PARTY
Join us on Sunday, Dec 10 @12:30pm for a Chanukah ice skating party! Teens 8th-12th Grades
Returning CTeen Members RSVP here
New CTeen Members register here
5) CHANUKAH GIANT MENORAH LIGHTING & CONCERT
Grand community Chanukah celebration. Warm your heart with Jewish pride as we light Fairfield County's largest menorah. Donuts, hot apple cider, latkes and gelt for the kids.
Sunday December 10th, 4:00pm at Latham Park followed by a concert with Israeli Singer Yoel Sharabi
6) JWC CHANUKAH PACKAGE PARTY
A JWC favorite! The JWC package party. Bring a wrapped gift worth $10 or more to be auctioned off for charity. Tuesday, December 12 at 8:00pm. RSVP HERE
7) BETSY'S BUDDIES CHANUKAH LUNCH
A special lunch for friends and family and participants of the Betsy's Buddies program.Wednesday, December 13th at 12:00pm at Chabad of Stamford. RSVP HERE